CR2 is named as Technology Leader in SPARK Matrix: Digital Banking Platform 2022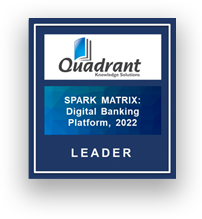 Quadrant Knowledge Solutions announced today that it has named CR2 as a 2022 technology leader in the SPARK Matrix analysis of the global digital banking platform market.
The Quadrant Knowledge Solutions SPARK Matrix™ includes a detailed analysis of global digital banking platform market dynamics, major trends, vendor landscape, and competitive positioning. The study provides competitive analysis and ranking of the leading digital banking platform vendors in the form of its SPARK Matrix™, providing strategic information for users to evaluate different vendor capabilities, competitive differentiation, and market position.
CR2's BankWorld platform helps banks in digitising their end-to-end banking operations and delivering an omnichannel digital experience through its digital tooling capabilities. The platform also facilitates integration with any banking environment and provides the ability to merge digital and physical banking channels. The company continues to deliver value to its customers by focusing on service innovation to support zero-touch/cardless ATMs across various countries and plans to provide greater deployment flexibility through cloud enablement and containerisation. With its ability to cater to diverse use cases, robust product strategy and roadmap, and strong industry expertise, CR2 has received a strong rating across the parameters of technology excellence and customer impact and has been positioned amongst the leaders in the SPARK Matrix: Digital Banking Platform, 2022.